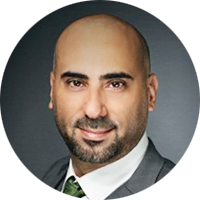 Ihab Assi
Ihab Assi is the Vice-Chairman and CEO of Triangle, an advisory firm active in various fields including Facility Management and sustainability, covering the MENA region out of Dubai.
Coming from a business administration background, Ihab has been active for 16 years in business development and management in Germany and UAE, where he accumulated extensive experience in the Real Estate and Facilities Management field.
Before joining Triangle, Ihab has been developing business at prominent FM Companies such as Enova and Kharafi National and was the Managing Director of Apleona in UAE.
In 2019, Ihab was selected to be one of the top 50 influential personalities in the region due to his outstanding achievements which are based on extensive background and solid network.
His valuable influence and contribution to the facility management industry has added significant impact to the FM community.
Ihab has master's degree in Business Administration, International Business from Liverpool University, and has taken a course in BT Electronics and many courses from Bilfinger Academy. He has also received certificates in Data protection and Anti Bribery and Corruption along with mastering 5 languages.