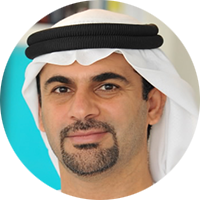 Abdulhadi Alalyak
Abdulhadi is currently the Head of Corporate Services at the UAE based Emirates Integrated Telecommunications Company (du). He joined this fast growing and dynamic organization in 2008 as VP, Asset Management & Corporate Admin, and has been a driving force contributing to its many facets of success and evolution since inception.
Prior to this appointment, Abdulhadi held the position of Chief Engineer, Integrated Customer Services and Facilities Management for 13 years at the giant global telecom company Etisalat.
His achievements are well recognized by the professional community and are highlighted through his many positive accomplishments within the FM community. In addition to being one of the key individuals contributing to the establishment and success of MEFMA, he also represents the sector internationally as a board of directors' member of Global FM.
Abdulhadi holds a Bachelor of Sciences in Mechanical Engineering from the prestigious George Washington University, USA, as well as Post Graduate Certificates in both Strategic Leadership from Cranfield University, UK, and Managing Corporate Resources from IMD, Lausanne, Switzerland. He is currently undertaking an EMBA with Hult International Business School and is expected to graduate in 2020.