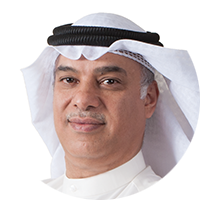 Ahmad Al-Kandari
Ahmad Yousef Al-Kandari is the Vice Chairman and CEO of the United Facilities Management Company (UFM), owned by United Real Estate Company (URC), in which he is a member of its Executive Management Committee.
Al-Kandari has more than 33 years of experience in the FM, real estate, banking and investment sectors. He has played a key role in establishing (UFM) and its subsidiaries since 2007,and was behind the growth and expansion in MENA region.He is one of the leaders of the FM industry in Kuwait and an important key figure, both locally and regionally.
Before joining (UFM), Al-Kandari has held main executive positions at (URC), through which he was responsible for managing several prominent projects from shopping malls to commercial towers. He also held several positions in investment companies and banks in Kuwait, such as the real estate bank, Gulf Credit Company and Kuwait Oil Company.
He was awarded as the best FM CEO in the Middle East for 2018, and was elected as one of the five most influential and effective personalities in the Middle East for the year 2018 through a study carried out by the (FM Middle East Magazine).