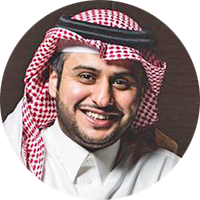 Mohammed Alduraibi
Arch. Mohammed K. Alduraibi holds a Bachelor's degree in Architecture from King Saud University (KSU) majoring in Construction Science, and Master of Science in Project Management (MSPM) from George Washington University (GWU), and a Specialized Certificate in Real Estate Development and Design from Harvard Business School Executive Education.
At the beginning of his career, Arch. Mohammed served as a Project Manager with the Saudi Hotel and Resorts Company (SHARACO), currently known as Dur Hospitality Co., in which he played a key role in the development of a full range of hotels and tourist resorts with the leading global operators.
Arch. Mohammed moved to Mohammed Abdul Aziz Al-Rajhi & Sons for investment (Rajhi-Invest) and set-up a Project Management Unit (PMU) at its subsidiary DAEM Real Estate Investment, before he took over the leadership of the Company to manage one of the largest real estate portfolios in the KSA.
Arch. Mohammed is the Founding Director of Oud Real Estate Company, which offered an elegant new concept in the real estate market.
Arch. Mohammed is the first Saudi to join as a Member of the Global FM Board, and is actively involved in the Facility Committee and a member of the Real Estate Committee at Riyadh Chamber of Commerce & Industry.
He is also a Project Judging panelist of the Gulf Real Estate Award based in Dubai, and a former member of the Media Committee of the Saudi Umran.