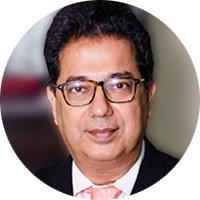 Dilip Khatwani
Dilip Khatwani is currently the Chief Executive of Reliance FM and has held this position since 2003. Reliance FM is a Facility management and consultancy company operating in Middle East and UK. In addition, he chairs the Owners Association and technical arms of Reliance Group of Companies.
Dilip worked for CB Richard Ellis as the Country Manager for Facilities Management covering South Asia. He brings 25 years of experience in managing assets for various infrastructure projects ranging from banks, corporate, townships, hotels, commercial and residential projects.
He is widely recognized as a trained lecturer on facilities management and a regular speaker in FM conferences across Asia and the Middle East. He was the visiting faculty for the MSC program for FM at the Herriot Watt University in Dubai for 5 years and was a trainer for the Government of Dubai's courses on facility and Owners Association Management.
Amongst his recognized achievements in the FM industry, is being a part of the initiative team to form MEFMA along with being a board member in it.
He holds a BTech degree in Marine Engineering and has done post graduate Examinations in the same Field. He also holds a degree in Music from Bombay University.