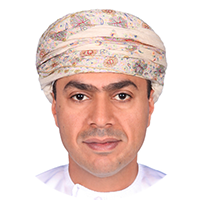 Sheikh Abdulaziz Al Hosni
Sheikh Abdulaziz bin Ahmed bin Sultan Al Hosni is the Vice Chairman and Group Managing Director of Qurum Business Group. After receiving his Bachelor's Degree in Business Administration from the University of California in the United States of America in 1996, he returned to Oman to ultimately carry the family legacy forward by transforming Qurum Business Group into an international diversified services enterprise with operations across the Middle East, Europe and the Indian sub-continent.
Sheikh Abdulaziz dedicated his time solely to re-engineering the Group by Developing the company's investment banking, property, construction, and facilities management businesses. Today QBG a truly international conglomerate by the synergies between the companies under its umbrella.
Sheikh Abdulaziz has served as Board Director on a number of reputable organizations including Oman Air, Sohar University, National Gases and Muscat Gases, United Facilities Company, Oman Hotels & Tourism and Al Ahlia Converting Industries. He has also been a member of several state advisory committees working in collaboration with Ministry of Manpower and Ministry of Commerce & Industry. His positive influence and contribution to the facility management industry has added significant value to the FM community particularly in Oman, and generally around the region.